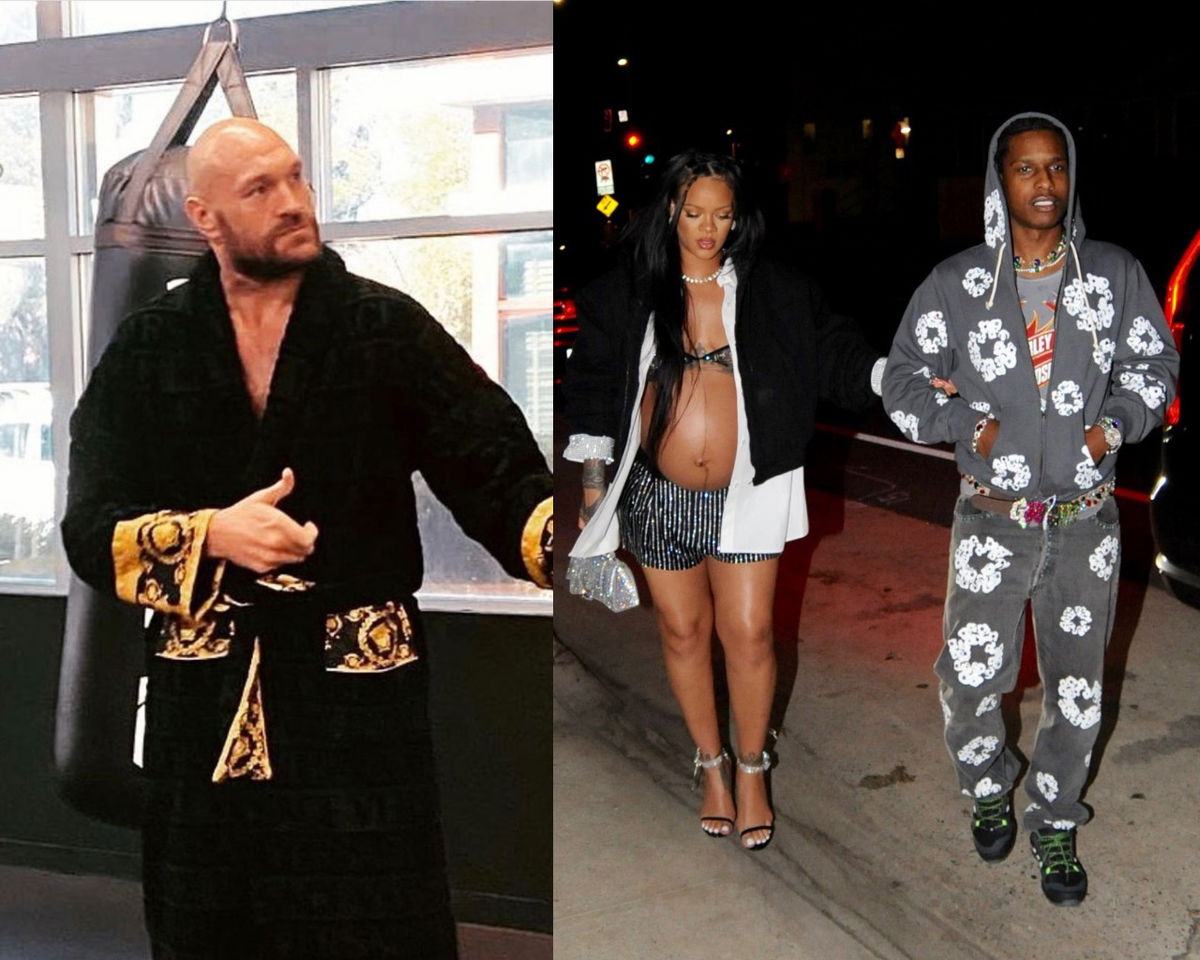 Tyson Fury quotes Rihanna's infamous 6-word baby daddy saying after Dillian Whyte's brutal knockout
Tyson Fury retained his WBC and Ring Magazine titles on Saturday night through a sixth-round stoppage of WBC challenger Dillian Whyte. Interestingly, he celebrated his win by quoting Rihanna's boyfriend's infamous 6 words.
ADVERTISEMENT
The article continues below this ad
ADVERTISEMENT
The article continues below this ad
Tyson Fury took to Twitter and shared a heartwarming message. He also dropped several emotional images.
'The Gypsy King' wrote, "I came I saw I conquered. Thank you Wembley, we made history! God bless you all, my family and my team. All glory be to my Lord and Savior Jesus Christ.
'I came I saw' are the repetitive lyrics of a famous song by star rapper, A$AP Rocky, who is about to deliver a baby with his partner and megastar, Rihanna. Released in 2018, the song "Praise the Lord" became an instant hit.
The lyrics of the song scroll, "I came, I saw, I came, I saw, I praise the Lord, so break the law…"
This song garnered immense praise for Rocky from all directions and took him to the pinnacle of stardom among the rap-listening public.
Interestingly, the original quotes date back to 46 BC. During this period, Julius Caesar, after his triumph held over Pontus, coined the phrase, "Veni Vidi Vici", which means, "I came, I saw, I conquered." He exposed the term to announce his dominating victory.
Likewise, "The Gypsy King" picked up a dominating victory over Whyte with greatness.
Highlights of the fight between Tyson Fury and Dillian Whyte
As expected, 'The Gypsy King' set the pace for the all-British blockbuster by making the royal entrance amid a pro crowd of 94,000.
The fight began with a loud cheer. Tyson's Fury established his jab in the early rounds, creating a problem for "The Body Snatcher" in the landing shots as the latter was at a disadvantage.
ADVERTISEMENT
The article continues below this ad
As the fight deepened, it turned into a dirty fight and required the referee to repeatedly intervene. A frustrated Whyte indulged in the abuse as Fury won every round by scoring punches and not getting hit.
In the 4th and 5th rounds, the champ landed a few killer body shots that tripped Whyte. However, Whyte fought back but couldn't create a difference that could push Fury back onto the scoreboard.
Finally, 'The Gypsy King' executed the devastating right uppercut to the challenger's chin. He knocked him down. Although Whyte tried to pull himself together, the punch hurt him so much he couldn't balance himself and the fight ended.
ADVERTISEMENT
The article continues below this ad
WATCH THIS STORY – Tyson Fury, Kamaru Usman, Dana White and more react to Mike Tyson beating up drunken fan on flight
What do you think of Tyson Fury quoting lyrics from A$AP Rocky songs? Let us know in the comments below.