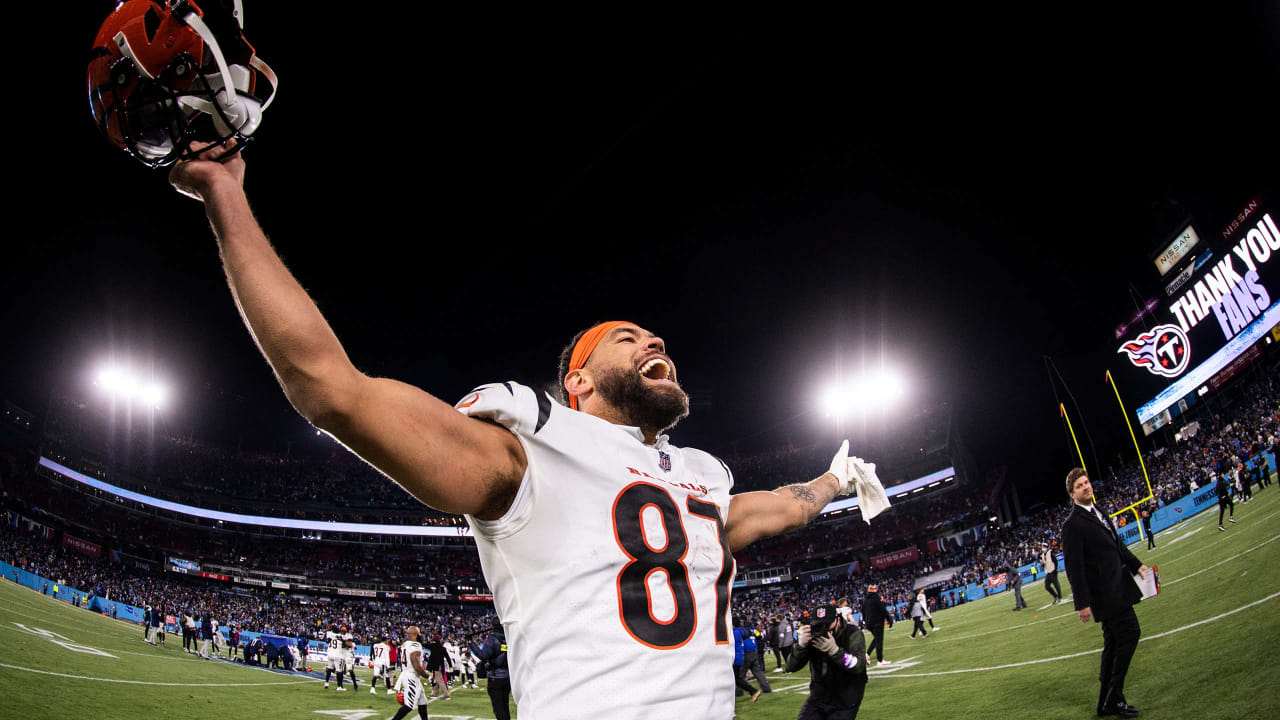 Superman reader; Uzomah Cowboys Up; Bengals assistants stand out; Injury Update
With the Bengals at the AFC Championship Game next Sunday, the team was able to relax with their fans on Sunday night and watch the Bills and Chiefs play for the other spot. As the fourth seed, the Bengals surrender to the winner.
The team has already beaten the Chiefs. They topped AFC North with the 34-31 win at Paul Brown Stadium three weeks ago. The Bills would be a new face this season, but a familiar face in the AFC Championship game. The Bengals defeated them in the 1988 AFC title game at Riverfront Stadium to advance to Super Bowl XXIII.
Bates: "It's a weird question everyone's been asking since we won the game, 'Who do you guys want? Who do you guys want?' At the end of the day it's not something we can control we've done our part we've won a week 20 now and whoever this team is we have to go and it's gonna be a fight again dogs. Good thing we can put our feet up and watch who we're going to play against. Let those guys fight each other for a bit and get back to work on Monday.
Uzomah on a potential upside by playing the Chiefs again: "It's playoff football. It's gloveless. It's a street fight. You say we have a tape on Kansas City. They have a tape on us. You can say the exact same thing. That doesn't It doesn't matter. We're gonna get their best shot. If we play KC, it'll be different than the time before. I'm gonna watch not as a fan, but watching like someone dissecting a movie. , who's going to have fun at this time of year, it doesn't really matter.
The Bengals defensive line continues to be plagued by injuries. Defensive tackle Josh Tupou has been struggling with a knee injury since the season finale in Cleveland and has only been able to play five games at Tennessee. Defensive lineman Cam Sample, who recently returned from a groin injury, apparently aggravated it on Saturday after playing 19 snaps. End Trey Hendrickson, who suffered a concussion last week, bumped into the Titans again, but appears to be off to a good start.
Taylor: "Cam Sample left with a groin injury so we're going to have to see where he goes this week. … Tupou gave it his all for as long as he could. We ended up taking him out of the game. I'll be watching this week as well and I'll see where he's at. … I think Trey will be fine. Really, Tupou and Cam Sample are the two we'll have to watch this week.
Defensive coordinator Lou Anarumo has been with the Taylor-led Bengals all along and his unit raised eyebrows by not allowing 20 points in both playoff games. Anarumo was reportedly recently interviewed for the vacant New York Giants head coaching job.
Bates: "I heard (Cowboys linebacker) Micah Parsons call (Cowboys defensive coordinator Dan Quinn) a weird uncle. (That's) almost how Coach Lou is. You have conversations with Coach Lou, he's always messing around… I can't say enough about him man. He pushed me to limits that a lot of coaches don't have.
"There were times when I said, 'Hey, I'm not messing with Lou today, man. I'm not, I didn't like the way he told me that ", but I really know he means well… Sounds like he's an asshole, but that's it's for a good cause… I'm happy to be part of it. I'm happy that we have these kind of coaches and that we can have this type of responsibility and be successful together, that's good.
"I'll call it more like more, like the brother-uncle kind of thing. Coach Lou, I can't say enough about him, it's something you have to experience for yourself."
Taylor on the Giants interview: "These guys deserved the opportunity. (Offensive coordinator) Brian (Callahan, interviewed by the Broncos) and Lou, so people take notice. Lou has been to the Giants before, they obviously had a high opinion of him when he was there the first time.