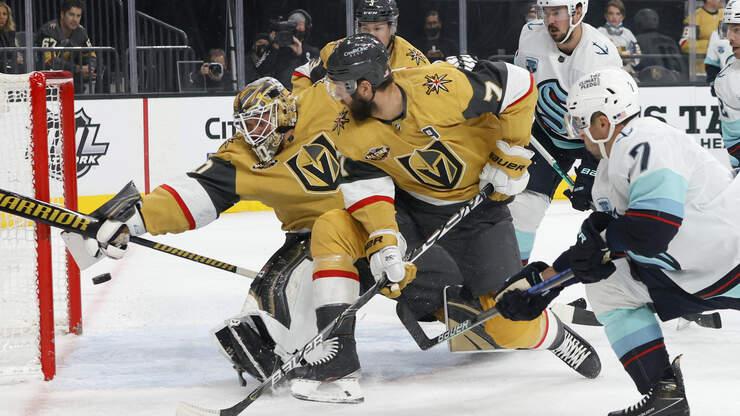 Post-match: Two heads, Gourde starts in 3rd, Hakstol, Giordano, quotes Eberle | Seattle Sports Radio 950 KJR
[ad_1]
Remarks:
-Jordan Eberle's seventh goal of the season, 4:49 in the game, extended his goal streak to three straight, giving him seven in seven after starting the season with a six-game drought. He is now tied for ninth in league scorers, with 11 other names, but many of them in the "household" category (Anze Kopitar, Steven Stamkos, John Tavares, Alex DeBrincat).
Eberle's power-play goal, shattering a 0 of 23 team drought, was a backhand shot from the left side of the post to beat a plunging Robin Lehner.
-Brandon Tanev's assist on Gourde's goal in the second period, after cycling in the offensive zone with Gourde and Joonas Donskoi, gave him 100 points for his NHL career.
-The absence of Gourde in the third period was a source of concern, as he returned to the ice to score his goal after firing a shot from the point to the leg, he was notably absent for the 16 last minutes of the match, despite a ridiculous 7. -9 (78%) on face-offs.
-After Gourde's absence (no further update from Head Coach Dave Hakstol at the end of the night), Riley Sheahan slipped into the wing while Jarnkrok (5 of 8 head-to-head ), flanked all night with left winger Brandon Tanev, moved to center position.
-Marcus Johansson, collecting an assist in his first game back from injury and since October 12, has been doing constant work to generate scoring opportunities with teammates Morgan Geekie and Donskoi. The trio generated a 12-5 advantage on shooting attempts against opposing lines at full power, and a 7-4 advantage on scoring opportunities.
-This match marked the end of Matchday 10 for former top scorer Jared McCann in COVID-19 protocol, where, barring unforeseen circumstances, he is eligible for a comeback starting Wednesday.
FROM THE PODIUM:
Head Coach Dave Hakstol on the turn of the game at the end of the second period:
"It was, you know, a change in response after a big change in a goal at the end of the second period. We have to get into the second one-minute intermission, so that's a goal we can't give up. We ended up in a shorthanded situation at the net on a simple throw-in and it's a little too easy.
Hakstol on the team's state of mind upon returning home:
"We will reset. We also have to look at this, it's a difficult loss. We worked really hard to be in a good position going into the third period. It got away early in the third period. So we have to reset, train tomorrow and prepare for a game on Thursday night.
Hakstol plans to speak with the squad tonight or in practice on Wednesday:
"Well our players know there was a lot of good stuff that happened there. So they know how hard they worked. There is also probably some frustration with not being able to finish and complete the 60 minutes. There were a few different things tonight that we will tackle tomorrow and go straight back to work and practice tomorrow at eleven o'clock.
Defender Mark Giordano on outlook after Tuesday night's loss:
"Well the good thing is we play good hockey. We're finding ways to get leads, but I think obviously it's been pretty devastating over the last couple of games to have leads. We had one, not a lead in Phoenix where we tied it late, then they scored right after, then tonight to take that lead late in the second, you want to come in with a little momentum and we have to just do a better job with this next shift, really important I think. But that stuff is going to happen sometimes in a game and we can't let them come out in third like they did with momentum, and take the advantage and then you fight from behind. It's hard, hard to come back.
Giordano on the state of mind of coming home:
"Well, we're going home to our apartment building. We think we had a pretty good home game. I think we've taken control of a lot of games there. We feed on our crowd. There is a lot of energy in our building. At the end of the day you know you can watch it like, you can't say the next six games, you have to win them all. You have to play one game at a time. We need to get back on track here. We need to feel good about ourselves. And you know, it seems like in close games we have to find a way to still be able to make these plays. Stick to our game, find a way to take the lead on our own. "
Forward Jordan Eberle on the team's state of mind after Wednesday night:
"You come back to the game we had in Buffalo, we weren't going to lose that game. You could see it. But, everyone – it's on me, it's on a lot of guys. We have to find ways to win games and understand the situations where you can take the lead after a good first period, you can take the lead after a good second period and then things start to slow down in the third. I mean, these are critical times in the goal of games, changes after goals when you have momentum. There are some things I want to say, these are things we need to find our game. "
[ad_2]