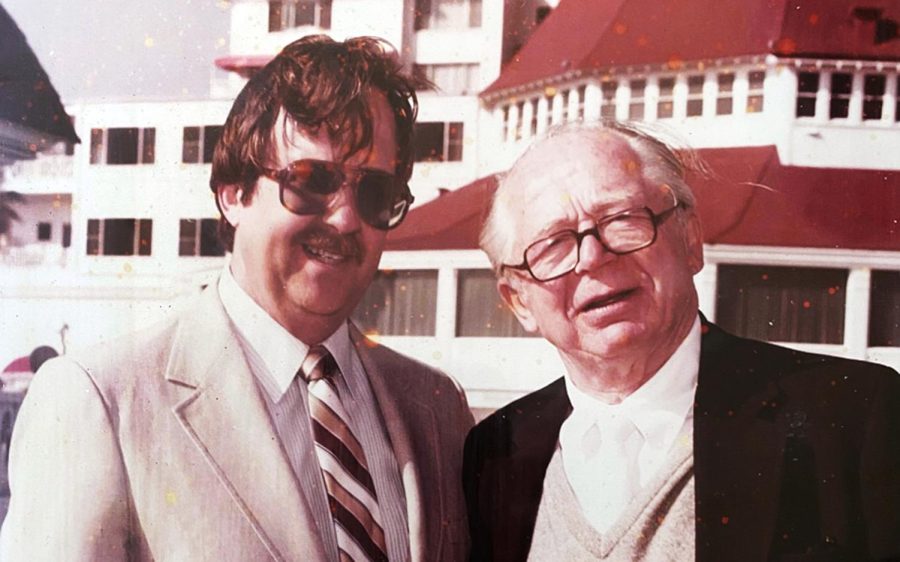 My breakfast with a movie legend – North Coast Current
I imagine everyone at some point has visions or dreams of having a conversational meal with someone considered great or a genius. Churchill, Eisenhower or even Einstein – someone like that. My chance presented itself in 1984. I received an invitation to have lunch with one of the greatest filmmakers in the world. —Billy Wilder
I was an executive at the famous Hotel del Coronado and had just hosted a 25th anniversary celebration of director Billy Wilder's legendary film, "Some Like It Hot", with Jack Lemon, Tony Curtisand Marilyn Monroe. I invited everyone for a fabulous weekend of fun. Lemmon, Curtis, and Wilder showed up, along with many surviving supporting actors. It was a flawless weekend that went exactly as I had planned.
Wilder's cinematic accomplishments are second to none. His list of screenplays since 1929 included Greta Garbo"Ninotchica", "Hold Back the Dawn", "Champagne Waltz", and dozens more. As a writer-director, he won Oscars and other accolades for 'Sunset Boulevard', 'Stalag 17', 'The Lost Weekend', 'Double Indemnity', 'The Apartment', 'The Seven Year Itch' , "Witness for the Prosecution", "The Spirit of St. Louis", "Sabrina", "The Front Page", plus "Some Like It Hot", just to name a few.
Sunday morning after a night of partying, I learned that Mr. Wilder wanted to have breakfast with me. I had a brief phone conversation with Lemmon, asking if the invitation was real or just a polite gesture from Wilder.
"Boy, never pass up a chance to sit at the feet of greatness," was Lemmon's reply.
We met on the Promenade Bridge on a beautiful Sunday morning. Wilder sat at a table sipping a cup of coffee and smoking a cigar. I had placed a box of expensive cigars in his suite when he arrived on Friday evening. That morning I arrived at the same time as Lemmon, whom Wilder had also invited.
We had breakfast while Lemmon and I sat listening to Wilder talk about a number of topics, including being back at the hotel after 25 years. He remembered how much Marilyn had had trouble working with him, Lemmon and Curtis. About how she delayed filming while her two co-stars waited patiently, in high heels and waiting for their next scene with her. The film has since been heralded as the greatest comedy directed.
He talked about art, of which he was one of the world's leading experts. Earlier, Lemmon had told me of a night several years earlier when he had accompanied Wilder to a private exhibition at a Beverly Hills art gallery:
"Billy told me to buy a particular painting. I didn't like it, but he said it would be a good investment, so I bought it, paying $1,000. I stuck it in a cupboard when I got home and forgot about it. A few years later, the gallery owner called me, asking if I would consider selling it. I sniffed out a profit. Painfully explaining to the gallery owner how much point I would find it hard to part with the painting, he offered me $10,000. I continued to bemoan the idea of ​​parting with it, but told him I would.
Lemon shook his head. "Now how the hell did Billy know that the paint would be such a good investment?" Lemmon felt it was pure genius.
The man who escaped the Nazis in 1933, came to America knowing less than 100 words of English, was indeed a true genius of the canvas and the cinema.
Proceeds from that Saturday night banquet in the hotel ballroom went to San Diego State University's new film editing facility. Years later, I received a call from a university official asking if I wanted to get in touch with Wilder, inviting him to come to the opening of the fitting center. I still had his home phone number. After dialing the number, a strong German accent answered. When I identified myself, asking him if he remembered me, the response was, "Of course, Tom. Say, do you still have those big cigars? He might not remember my face, but he remembered my taste for good cigars.
Billy Wilder died of pneumonia on March 27, 2002, at the age of 95. Taking his sense of humor to the grave, the epitaph on his tombstone is the last line of "Some like it hot." The stone is engraved: "Billy Wilder, I'm a writer, but then no one is perfect."
He was the closest thing to perfection.
---
Tom Morrow is a longtime Oceanside-based journalist and author who contributes to OsideNews.
The columns represent the views of the individual author and do not necessarily reflect those of the ownership or management of North Coast Current.