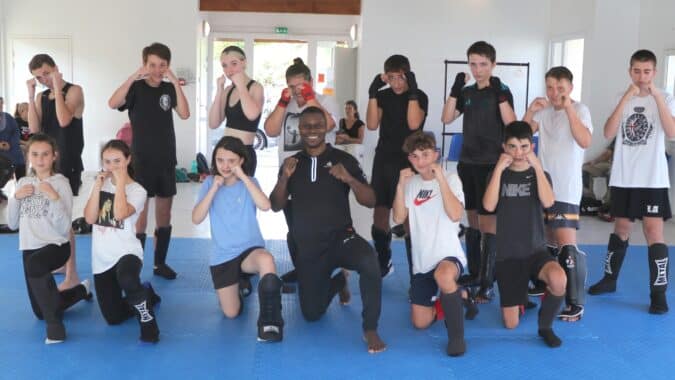 Learning boxing and sport at the excellent school of Karim M'Fochive
Karim M'Fochive, multi-titled in full contact boxing, crossed all the levels of his specialty between 2008 and 2014. During these six years, he was crowned at the national level, then European and finally world. Today, every week, he puts his pugilistic science at the service of young Saint-Gaudinois and Montrealers, of all ages and all levels, with humility and conviction.
Full contact boxing world champion in 2014 in the middleweight category (under 72.5 kg), he had already started training in 2012 at the Striker Boxing Club in Toulouse, before opening a branch in Saint Gaudens. . in 2021: the Striker Boxing Club of Comminges.
He teaches either full contact boxing, American boxing, Thai boxing or even kick boxing! And having attended his sessions, I can testify that they are followed with attention by the "apprentice" champions, boys and girls. It must be said that the "master" knows how to encourage and convince them: "Will, energy, it's a combat sport! Concentrate! Get involved in what you do! To be present!he throws them.
These sessions are amazing, we discover that boxing requires the acquisition of a real technique to accurately hit a hook, an uppercut, a low kick, a middle kick, a high kick or to practice the art of dodging. . This supposes a synchronization of the whole body, a perfect balance to succeed in the impeccable and effective gesture.
" I want to pass on what I learnedadmits Karim M'Fochive. And it goes beyond simple combat technique: "I want to bring to children the values ​​related to combat sport, the ability to concentrate, self-confidence". And it works, because Karim is a boxing enthusiast, but not only boxing: "Above all, I want to encourage young people to play sports, even if it's not boxing, and thus prepare them for the vagaries of life.".
Karim M'fochive, a great champion and a remarkable teacher.
Internship program
Striker Boxing Club, 3 rue Charles Baudelaire in Saint Gaudens, training on Wednesday: 2 p.m. to 3 p.m.: 6 to 10 years old. 3:00 p.m. to 4:00 p.m.: 11 to 14 years old. 4:00 p.m. to 5:00 p.m.: over 14s.
Striker Boxing Club, Gymnasium 2 rue courraou in Montréjeautraining on Tuesday, Thursday and Saturday.
Tuesday 8:30 p.m. to 10 p.m.: adults.
Thursday 8 p.m. to 9:30 p.m.: adults.
Saturday: 2 p.m. to 3 p.m.: 6 to 10 years old, 3 p.m. to 4 p.m.: 11 to 14 years old, from 4 p.m.: over 14 years old and adults.
Contact email: or tel. 07 66 55 39 04