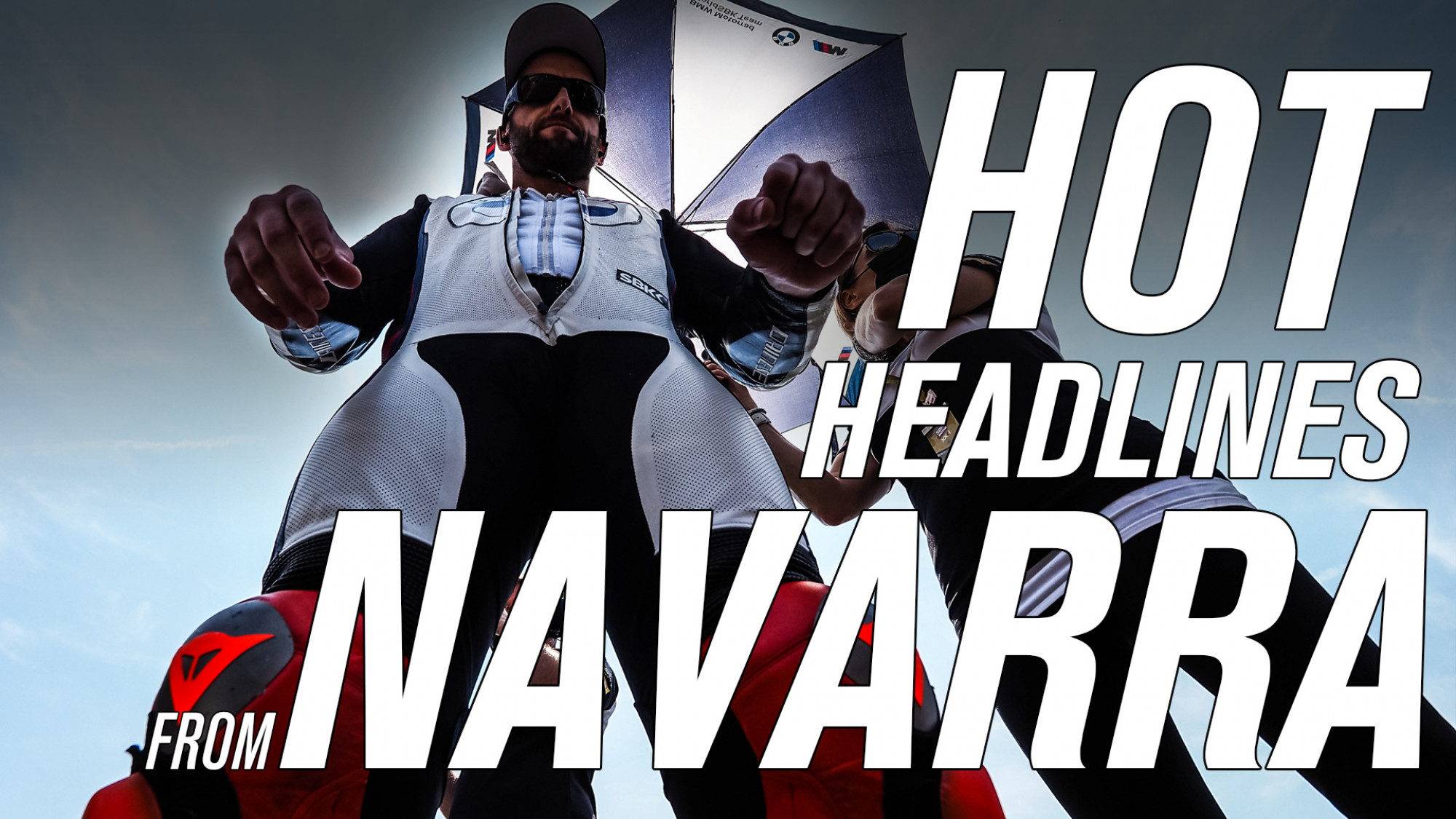 [ad_1]
The 2021 MOTUL FIM Superbike World Championship might give us plenty of headlines and drama on the track, but the paddock was also alive with the sound of transfer market news, team debates and raging emotions. This week's hottest headlines see everything from shockwaves from the transfer market, almost collapsing from head-to-head and front-end feel, so sit back, relax, and get all the big guys titles of a dramatic weekend – on and off track.
Tom Sykes (BMW Motorrad WorldSBK Team): "We clearly have limits… if the rider could tell the difference… then I would take my hat off to him.
Speaking on Saturday after the first race, Sykes was dejected and wanted more: "We clearly have limits with the bike. Michael and I are both competent pilots and we both have the same issues. We have a different set-up and a different riding style, but the same issues. I will continue to firmly believe that for me speed is not an issue. In the race I still lack the rear wheel drive and the corners of the bike, and obviously we can't go any further. We finished sixth in the hot conditions of Race 1, and no one fell in front of us, but we are still 20 seconds away from victory. So there is still work to be done but there is no quick fix, is there? That's why, to be honest, I'd like to see if those 20 seconds can be corrected just by the pilot. If the pilot could tell the difference in those 20 seconds today, then I would take my hat off to him.
On a more positive note, Sykes said one of the main positives to take away from the Navarre weekend was the improvement in high temperatures: "There are a few positives to take from the weekend. There are still only three BMWs on the grid, and we are quite new to this era of the Championship. Unfortunately Jonas is still struggling so it's just me and Michael who are close in competition. Race 2 saw an improvement, and we did a test here in June and got that momentum going at Donington Park. Then I tested in a really hot Catalonia and tried different components and geometries and from there I think we learned more and it transferred here.
Scott Redding (Aruba.it Racing – Ducati): "I want to win the championship for Ducati this year"
With his heart on his sleeve as always, Scott Redding praised his team's efforts, his bike and his performances in Race 1, while affirming his clear intentions for the Championship: "I got off to an incredible start! To beat Jonathan on the line, I was already smiling at turn 1! Jonny did it but I expected it because he is always strong in the first laps. I stayed calm, looked where he was strong but after a few laps I could see that he was starting to struggle a bit.
"I took the step, but I didn't push hard. I wanted to get my pace without going overboard. The gap widened, perhaps because I pushed a little harder. In these conditions, you have to have a feeling and that's what I had, which is important for me to be consistent. I almost fell on the last corner when I went too tight and hit the curb, and I was like "fucking idiot Scott, come on" but other than that it was a good race. It's good to do that after the new one when people say "I'm not here for Ducati", but I am; I want to win the championship for Ducati this year, that's the only thing I want. On Saturday we showed we can still do it.
Jonathan Rea (Kawasaki Racing Team WorldSBK): "I feel like I'm driving the best I've ever driven; the margin of error is so, so small "
Speaking from the front of his bike on Saturday, Rea said, "The front tire started to heat up, the stability started to drop, the front was moving. I just pushed too far forward, had a few slips before and it was enough for me to brake earlier. When I lived through those moments, I lost position on the track, up to a second with an error. When I release the brake, it's just not stable. I'm pushed from the rear, the rears and the combination of opening and closing the engine brake, it's just unloading the front. At this temperature, you don't need to disturb it too much when riding at the limit.
Then speaking on Sunday Rea reflected and said he was riding the best he's ever had and thinks it's good that his rivals are in the mix as well: "I feel like I'm driving. the best I have ever flown; the margin of error is so, so small. It also shows how fast and how hard others are going. "
Alex Lowes (Kawasaki Racing Team WorldSBK): "I hope I can start to perform better and help Jonathan a little more"
While he may be a little behind the top three, Alex Lowes takes advantage of the spectacle of the title battle and said he wants to get in on the action to help his teammate: "Obviously it is. closer ; it's great to have Ducati, Yamaha and Kawasaki at the top and to have good battles every weekend. It's not just up to the runners, it's up to the teams to make the most of every situation. I hope I can start to perform better and help Jonathan a bit more. That's the goal and it will be tight at the finish. The other bikes are improving and that makes life more difficult for us, but it's good for the Championship. It's going to be exciting, not just for us but for the fans!
Andrea Locatelli (Pata Yamaha with Brixx WorldSBK): "I never thought I could do that… now my eyes are looking forward and I see the big names!
Making one of the most impressive jumps to WorldSBK from WorldSSP, an emotional Andrea Locatelli couldn't believe what was happening: "I never thought I could do it because maybe, during the last race of the year, I get a good result. But in the end, he got to Assen straight away and now we are working very well. We have a good basic setup on the bike. Now my eyes look forward and I see the big names: Jonny, Scott and Toprak. This is my target. Of course, it is not easy. I need to learn a little more; we are here to do it. We are trying at Magny-Cours and also the next races to try to close the gap and maybe fight for the victory with them.
Watch the drama of 2021 continue to unfold in one of the closest title races in history with the WorldSBK VideoPass, now at 50% off!
[ad_2]