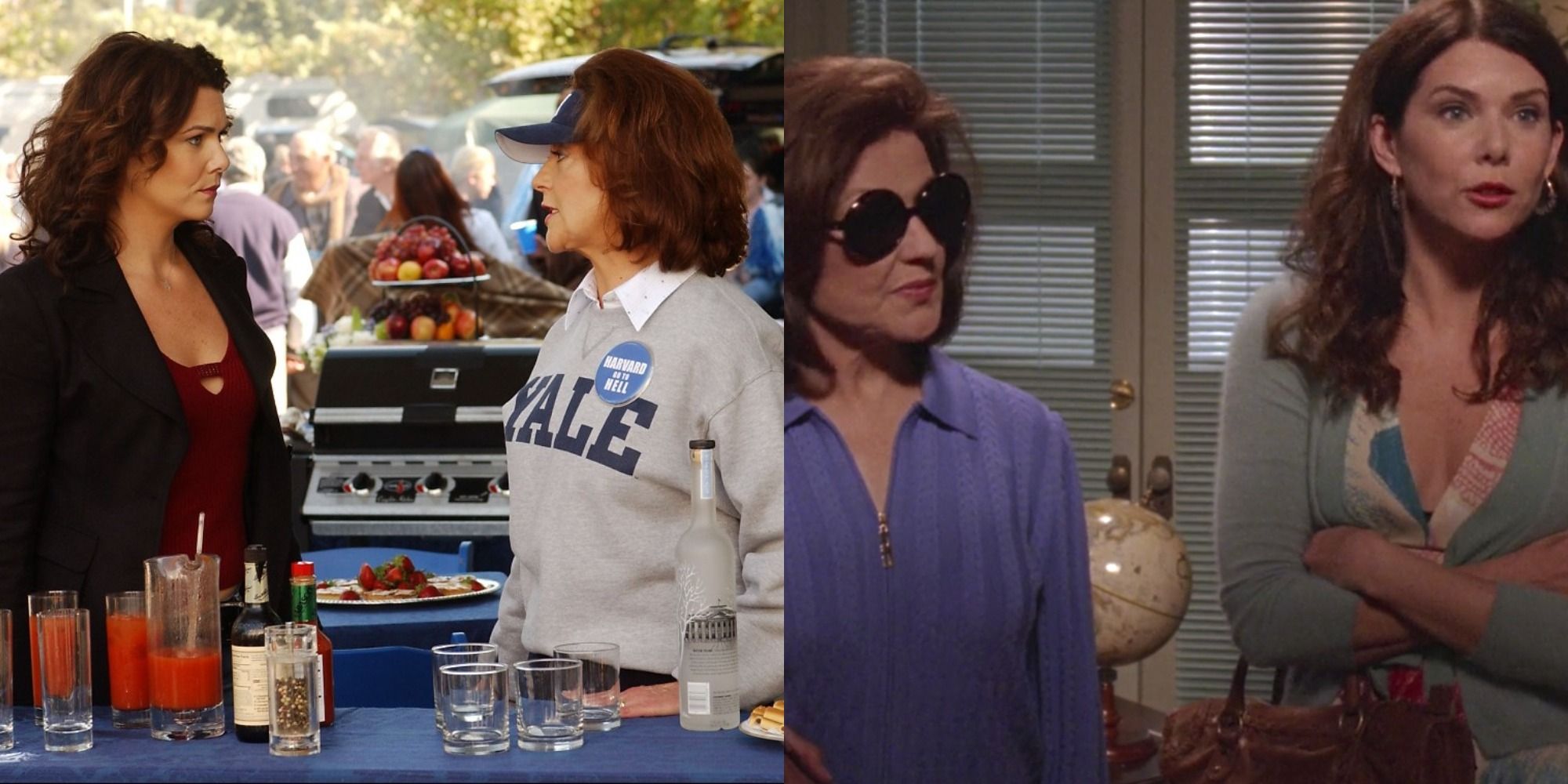 Gilmore Girls: 8 Best Emily Vs. Quotes from Lorelai
The Gilmore Girls alum, Kelly Bishop (Emily Gilmore) was seen channeling a fiery matchmaker, Benedetta in season 4 of Amy Sherman-Palladino, The wonderful Mrs. Maisel. Whereas Bishop's Benedetta is a new TV character, she is Lorelai Gilmore's graceful, classy and argumentative mother is best remembered.
Emily and Lorelai's arguments broke out in Gilmore Girls' first season in 2000 and they continued to bicker in the final season of 2007, and unsurprisingly in Netflix's 2016 revival – A year in the life. The two women were very different from each other, in that Emily cherished traditions and Lorelai's free spirit couldn't care less about rules or the like. Their relationship stood in stark contrast to Lorelai and Rory's romantic bond. The differences in Emily and Lorelai's personalities combined with Gilmore's brand of repartee have led to several hilarious arguments that have Millennials and Gen Z fans laughing.
Dinner Talk
Lorelai: "Mom, did you socialize with a known Nazi? That's despicable."
Emily: "No, honey. It was a joke."
In this memorable scene from "Cinnamon's Wake," Emily teaches her daughter a thing or two about the sanctity of dinner conversations. It's a typical Friday night and the Gilmore women are having dinner without Richard, who is on a business trip in Germany.
RELATED: 10 Best Gilmore Girls Episodes To Rewatch If You Miss Rory & Dean
Lorelai, who keeps cracking jokes at her father's expense, receives an appropriate response disguised as a joke from her mother. When Emily says that she and Richard once stayed in Munich with a real Nazi named Rudolph Gottfried, Lorelai begins to berate her. Very quickly, Emily adds that she was joking and Lorelai is unable to reply. From this memorable conversation, fans learn that dark humor is definitely not Lorelai's cup of tea, and Emily knows how to defend her principled husband and his job.
Rory enters Chilton
Emily: "An education is the most important thing in the world, after family."
Lorelai: "And, Pie."
The fact that Emily and her daughter, Lorelai, disagree on things is evident in the pilot episode, thanks to this very first Friday night dinner conversation.
Emily raises her glass to toast Rory, and Lorelai looks like she wants to joke around with her mother. Lorelai thinks she's funny equating upbringing and family to the pie. No one realizes it's a joke until Lorelai herself says it is. She gets an "Ah!" from his mother and a tongue-in-cheek reaction from Richard. This joke is one of the best because in that brief moment Emily teaches Gilmore Girls viewers how to get through a family reunion. She ignores her daughter because she knows the moment belongs to Rory.
Lorelai shows up at Chilton in cut-off shorts, a pink t-shirt and cowboy boots
Emily: "Do you need a ride or is your horse parked outside?"
Lorelai: Uh… [Grunts]"
One of Emily Gilmore's darkest burns in Gilmore Girls lies in "Lorelais' First Day at Chilton" where viewers witness her witty critique of Lorelai's choice of dress.
Lorelai's blurry alarm clock causes her to oversleep on Rory's first day at Chilton. She doesn't have time to go to the dry cleaners, so she has no choice but to don a jumpsuit of cut-off shorts, a pink t-shirt and, surprisingly, cowboy boots. Lorelai isn't very happy to see Emily already in the principal's office and is in trouble when she is asked to take off her coat and sit down. Emily is appalled to see Lorelai dressed rather inappropriately and it's hilarious how tactfully she makes her completely speechless in front of everyone.
Lorelai's business troubles
Emily: "Is the place dirty?"
Lorelai: "It's just surrounded by this thing called nature and… the mice are coming."
The opening scene of "Haunted Leg" begins on an uncomfortable but humorous note for the mother-daughter duo. Lorelai and Emily begin to exchange brief banter. To start the conversation, Rory decides to talk about her mother's business which is doing well but faces challenges from time to time.
RELATED: 5 Times Gilmore Girls Fans Rooted For Emily (& 5 Times She Confused Fans)
When Lorelai says she's dealing with a mouse problem at the hostel, Emily immediately asks if her place is dirty. This conversation gets the ball rolling, and the next thing fans know, Emily and Lorelai are arguing over a woman named Shauna Christy. The dialogue establishes Lorelai and Emily become more and more creative in their conversations. It's this creativity that makes the show's Friday night dinner parties a never-ending source of entertainment for fans.
Lorelai went to a cat funeral
Lorelai: "It's late, I have a big day tomorrow mom."
Emily: "Oh what, are you going to a raccoon's wedding?"
In this glorious Gilmore Girls Season 1 joke that everyone completely missed, Emily makes a subtle crack about her daughter's lifestyle and refuses to believe a funeral has been held for her neighbor's deceased pet.
As the set of Stars Hollow shares the loss of Babette and Morey, Emily can't understand why her daughter skipped an unknown relative's funeral to be with her immediate neighbor. She calls Lorelai late at night to express her grief and uses odd remarks to express she is upset. Lorelai wants to hang up and free herself from her mother's questioning, but knowing the mother-daughter dynamic, fans know Emily won't give in without a last laugh. While Emily steals the show with the whole "raccoon wedding" remark, the conversation serves to point out the subtle differences between the two, and that's exactly what makes it unforgettable.
The conversation about my darling
Emily: "No, her real name was Melinda, sweetie was a nickname."
Lorelai: "Why?"
In "The Reigning Lorelai", when Emily talks about the death of her oldest friend, Sweetie aka Melinda Nelson, Lorelai manages a "why?" instead of condolences. As Rory immediately expresses her sympathies, her mother wants to know how Melinda got the nickname, Sweetie.
Emily makes up a fake story about how Melinda as a child walked miles in the snow, stumbled into a candy store where the owner took pity on her and promptly offered her father a job. Fans are happy that Emily gave a fitting response to Lorelai who was looking for funny stories about someone who died. It's conversations like these that remind viewers why Emily is Gilmore Girls' main character. Her quick repartee and ability to pull off that dinner party without letting her daughter do all sorts of fuss is a joy to watch.
Emily's Shopping
Emily: "Lorelai!"
Lorelai: "Your brake lights were off."
In season 4's "Scene in a Mall", Emily is shopping at full throttle, and Lorelai and Rory fail to keep up with her. She asks Lorelai to watch her footsteps as the latter inadvertently bumps into her.
RELATED: Emily's Top 5 Gilmore Girls Advice (& Her 5 Worst)
Emily is particularly aggressive in the episode as she is upset with the state of her marriage and feels that her contribution is not valued enough by Richard. Collision is physical comedy gold, and Lorelai's "brake light" simile elevates the comedy into the scene.
Emily loves her dress
Emily: "How am I?"
Lorelai: "Like a landlady."
Season 2's "There the Rub" features Emily and her daughter receiving massages and body treatments at a health spa. Lorelai makes fans laugh by saying her mom looks like a landlady in a white dress.
While Lorelai has taken the day off, her compulsive urge to prank never rests. In a rare moment, like the first thing, Loralai knows the value of a short joke and Emily knows how to ignore it and have fun.
NEXT: 10 Things Gilmore Girls' Rory And Emily Have In Common
Freddy Krueger actor got in trouble for spoiling Stranger Things season 4
About the Author