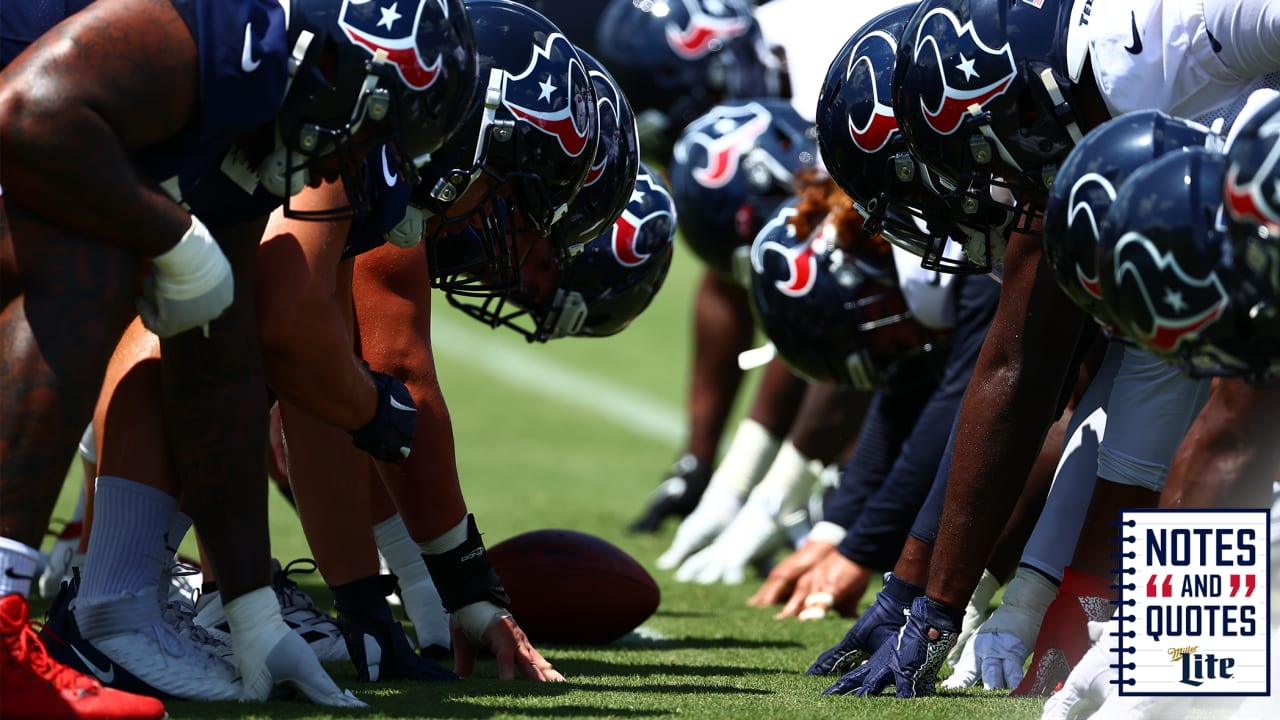 Find out what was seen and heard on Day 20 of the Houston Texans training camp by Xfinity.
[ad_1]
The Houston Texans held Tuesday's practice outdoors at the training grounds of the Houston Methodist Training Center. The players were in shorts for hot and scorching midday practice as they began planning for their third and final preseason game on Saturday against the Tampa Bay Buccaneers.
The practice looked a little different from the Texan camp. Instead of the first team offense against the first team defense, each faced off against a team of Boy Scouts to fake the look of what to expect from the Buccaneers.
"We're going to play against our guys, just like they're going to play against their guys," said head coach David Culley. "Obviously, these are the defending Super Bowl champions, and it will be a good test for us to see probably the best group of front row players we've seen because basically we haven't seen that. the first two ball games we did. I haven't seen all of the Green Bay starters, we haven't seen all of the Dallas starters, and vice versa with us. "
Rookie wide receiver Nico Collins returned to practice after missing the second preseason game with strained muscles.
Veteran Justin Britt says he has the chance to play "freely" under the direction of offensive line coach James Campen.
"I am grateful to have Campen as a coach," said Britt. "He has a lot of knowledge in the game and in training. Playing at center is something that really attracted me to be able to learn from him. It was a pleasure."
Tyrod Taylor threw a through pass to Chris Conley to complete a first team period.
Lovie Smith's defense continued to focus on take-out. Cornell Armstrong and Justin Reid each had an interception in training.
"Coach Lovie is a guy with a spinning mindset, a guy with a take-out mind," Desmond King II said. "His defense is based on having your eyes on the quarterback, having those zonal instincts. So what we want to do is be able to play fast on the pitch and get the ball back."
Pharaoh Brown made some catches in the team drills.
Rookie wide receiver Nico Collins returned to practice after missing the second preseason game with strained muscles.
Mark Ingram II, Phillip Lindsay, David Johnson, and Rex Burkhead all made plays in training in both the running game and the receiving game.
"You have to understand that these days you need more than a running back," said Lindsay. "That's the way it is. On top of that, the majority of us are a great team that have running backs per group. It keeps you cool. It's a long season. 17 games. . You don't understand the smallest hits are the ones that spoil you the most, getting landed and all that. "
In fact, the last period was situational work. With the game tied and less than a minute to go, the offense had to move the ball across the field for a field basket to win the game. Taylor rushed to the sideline then threw passes to Brown and Chris Moore along the straight sideline.
With probably enough time to run one more play to enter field goal territory, David Johnson caught a pass and scored a touchdown. It was the last part of training.
"I'll tell you, he's very versatile," Culley said of Johnson. "He's a guy who's been basically very, very good in his career in third down situations as well as first and second downs, and with the depth that we have in our back position right now with these guy, his versatility becomes very, very important to us, and I feel great where he's been during this training camp. "
The Texans return to the training ground Wednesday at the Houston Methodist Training Center. Houston will host the Tampa Bay Buccaneers in their final preseason game on Saturday. Kick-off is scheduled for 7 p.m. CDT on ABC13 and SportsRadio 610.
[ad_2]