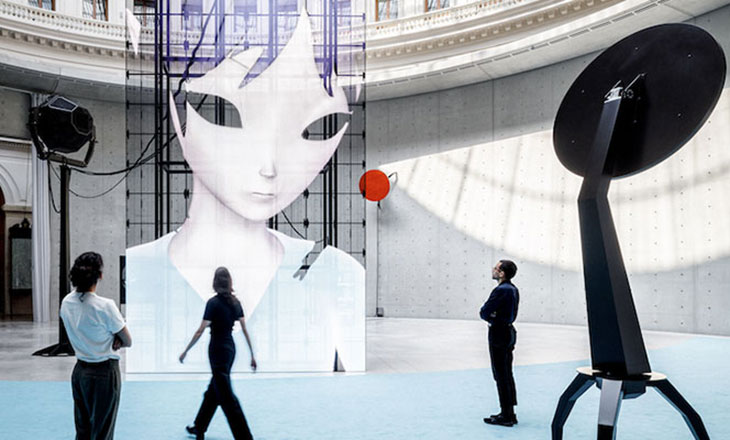 Discover the exhibition "A Second of Eternity" at the Bourse de Commerce
Pinault collectionopened "A second of eternity", a new exhibition in its Bourse de Commerce space in Paris on Wednesday June 22. The exhibition, which presents a selection of works from the Pinault Collection, takes visitors on a journey inspired by the question and experience of time. "A Second of Eternity" is organized by Emma Lavigne, CEO of the Pinault Collection, and presents the works of around twenty artists.
The exhibition gradually takes over all the spaces of the Bourse de Commerce, and will be open until September 26, 2022.
The exhibition presents works from the Pinault collection, including artists: Larry Bell, Marcel Broodthaers, Miriam Cahn, Nina Canell, Liz Deschenes, Ryan Gander, Dominique Gonzalez-Foerster, Felix Gonzalez-Torres, Roni Horn, Pierre Huyghe, Gustave le Gray, Sherry Levine, Melik Ohanian, Philippe Parreno, Anri Sala, Tino Sehgal, Rudolf Stingel, Sturtevant, Wolfgang Tillmans and Carrie Mae Weems.
The narrative constructed here through the exhibited works explores the polysemic nature of the present time, alternately suspended, fleeting, inhabited by spectral presences, and traversed by the theme of loss and incarnation. This cycle borrows its title from a 1971 work by the Belgian artist Marcel Broodthaers, A Second of Eternity (based on an idea by Charles Baudelaire), a film that briefly brings the artist's presence to life through the simple staging of his signature. The work sets the tone for an exhibition where the intensity of the presence of bodies and images contrasts with their fleetingness. As Charles Baudelaire said, it is about finding "in a second the infinity of joy" and contemplation. – from the Pinault Collection.